The other dairy machines are the dairy machines that do not fall under the categories: Cheese production, Cheese maturing or Cheese packaging.
Rotary filling machine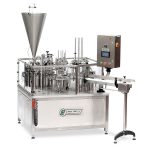 The NBM is a technologically advanced line of the Pack Line fully automatic rotary filling and sealing machines
Automated Shrink Sleeve System
Standalone Shrink Sleeve system with the following functions: destacking the cups, applying the sleeve, shrink tunnel, stacking the cups.
Ultrafiltration unit
This unit is used for the concentration of milk proteins in milk and whey and protein for standardization of milk intended for cheese, yogurt and some other products
Do you want to offer a machine?

That's possible! Send a message via email, this form or call us.